Speech by Beth
Thank you FDS for giving me this opportunity to speak on this national support day.
As Tony has said supporting a loved one with drug dependence is like being a member of a club that nobody wants to belong to. Behind every person struggling with drug dependence there is a family in distress.

Read More
---
Speech by Anne
I come from a typical middle class family. 1 of 10 children, raised by parents with a strong value system, mother a teacher, father a plumber with his own business. Most of us have university qualifications, many of us more than 1. All of us are gainfully employed a number of us in senior management positions others with their own business. We think of ourselves as well educated, fairly liberal minded and tolerant of ourselves and others. It never occurred to us that there could or would be a drug user in our family...
Read more: Family Member speeches from the National Family Drug Support Day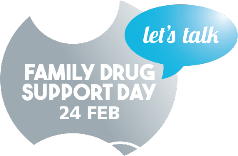 FAMILY DRUG SUPPORT

5 Key Points


In the addresses at the events held at the Canberra, Sydney, Queensland, Victoria, South Australia Parliament Houses, Mr Tony Trimingham (CEO, Family Drug Support) will call for the following major requirements.
1. Policy must focus on measures that reduce drug fatalities - families want policies and programs that keep their children alive. This includes harm reduction strategies such as safe injecting facilities, pill testing and heroin prescription programs.



Read More...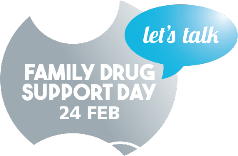 National Family Drug Support Day

Congratulations to all who participated in supported and contributed to the inaugural National Family Drug Support Day held on 24th February in venues across Australia. Major events were held in Parliament Houses in Canberra, Sydney, Brisbane, Melbourne and Adelaide. Side events were also held in Perth, Narrabri, Wagga Wagga and others.

Read More...
---