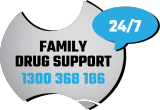 24 February 2020
Founder and CEO of Family Drug Support (FDS), Tony Trimingham OAM, who started the organisation after the death of his son Damien 23 years ago to the day welcomed the Australian Government funding announcement on such an important day:

"In the 20 years, Family Drug Support has been supporting families dealing with alcohol and other drugs we have had many ups and downs.

Today has been an excellent day thanks to the announcement from the Health Minister, the Hon Greg Hunt, announcing funding to allow FDS to continue our national toll-free telephone support line for families.

Read More...