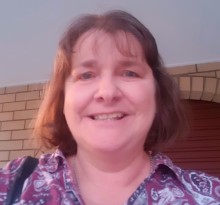 Since August 2021 Caroline has been the FDS Family Support Worker based in Rockhampton Qld, covering all of Central Queensland.
Caroline arrived in Rockhampton, Australia in June 2008 from the United Kingdom. Caroline graduated from the University of Surrey U.K. BA (Hons) and then spent twenty years with the British Government in various roles. These roles included several years as a British Diplomat based in Embassies in Asia.
Prior to joining FDS she was employed as a Senior Advocate for RSL Queensland. For over 13 years she covered Central Queensland advocating for serving and ex-serving military personnel and their families, ensuring that they gained their entitlements and looking after their wellbeing.
Caroline has a wealth of experience working with clients with physical disabilities and mental health concerns including clients and their families using alcohol and other drugs.
Caroline has all relevant qualifications in training, mental health and casework management.
Caroline is an avid football (soccer) fan having played for over thirty years at various levels. She is a lifelong supporter and avid Manchester United fan. Since arriving in Australia she has also become a huge NRL fan and is a keen South Sydney Rabbitohs supporter.
Caroline Wright - Family Support Worker, Rockhampton QLD