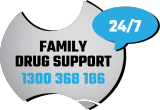 Over 80 people gathered in the member's dining room of NSW Parliament house on Friday September 15 to celebrate 20 years since FDS was founded.
Master of ceremonies Gino Vumbaca kept the evening rolling along with entertaining and interesting interviews. Various people who have been important to the development of FDS were acknowledged including former chairs Ann Symonds, Professor Peter Baume and John Della Bosca. Founding, former and present Board members were also acknowledged and thanked, past and present staff and volunteers also mentioned and the presence of many key people in the Alcohol and other Drugs sector.
James from the office had put together a nostalgic reflection on the year 1997 and Sandra compiled a historic collection of media reports from the year that FDS was founded for people to take away. Rev Bill Crews and Tony had an informal chat reflecting on the early days – many people commenting that they should take the show on the road! Tony paid tribute to Sandra who has been with him through the good and bad years, the challenges and the pain. John Della Bosca gave the third Michael Dawson, Evan Thomas and Brian McConnell annual oration on the topic of the 1999 NSW Drug Summit which of course changed things forever. In his summing up at the end of the evening Tony angrily lamented the lack of progress since and challenged people to get active as John Della Bosca had also done in his speech.

The evening was enjoyable, great dinner, good music from Rory also added to the night and the buzz around the room told how much people felt comfortable and were having a good time.

There was pause to remember people who had made great contributions to FDS who are no longer with us. Tony would like to thank the FDS staff for making people feel comfortable and welcome. Organising an event like this takes time, energy and team work and we are particularly proud of the NSW office staff who did far more than we could expect. Thank you to Emma, Sandra, Louise, James, Amy, Jenny and Julie.

Tony could not find support when he was confronted with Damien's drug use – there is now somewhere for families to turn too. This is our greatest legacy.