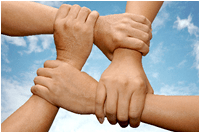 In the interpersonal, family, social and political factors needing to be considered when planning drug prevention and treatment strategies.
In real changes occurring when individuals, families and the community participate in the process.
In education, health promotion and treatment activities linked to a continuum of service provisions providing a coherent and interrelated range of services.
In encouraging education and treatment, and promoting improved outcomes for users, their families and the community.
In contributing to the development and skills of volunteers.
In working in partnerships with governments and other agencies to effectively achieve these objectives.