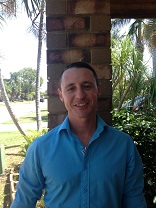 Dom Shelley works for Family Drug Support (FDS) as the Queensland Project Manager. Dom commenced with FDS in July, 2011.
He has a passion for working in the Alcohol and Drug field and has enjoyed various positions in this area since 2005. He has also enjoyed working with Queensland Indigenous community members.
He is a keen musician and has been playing drums for around 20 years, loves to surf, and plays club cricket.
Dom Shelley - Queensland Project Manager